(Family Features) Just as filling your plate with colorful foods is typically good for your body, filling your kitchen with color can be good for the soul. In fact, color is an important element in interior design not only for its aesthetic value, but also because it can shape perceptions and emotions.
"Color is powerful – when you walk into a room, you can instantly feel its subconscious effect on your mood, your heart rate and even your appetite," said color trend expert Janice Fedak. "That's why it's important to choose colors that 'speak to you,' express your unique personality and truly make you feel at home."
The experts at Elmira Stove Works offer these design tips, which take into consideration the psychology of some of the most popular colors for the kitchen.
Red
- FWBP Digital Partners -
A strong, vibrant color, red is often associated with passion, pride and strength. In the kitchen, bold pops of red can command attention. Red is a perfect hue for appliances – both large and small – and also works well in a patterned backsplash or on decorative items such as canisters and cookware. Consider red "crystal" grout instead of traditional white grout for tile to create an unexpected look.
White
Associated with clarity, cleanliness and purity, this "non-hue" promotes a sense of order and can provide the ideal backdrop for other colors and design elements. For a streamlined kitchen, pair white countertops with a white tiled backsplash and cabinetry. For a more relaxed but still fresh look, introduce a few colorful kitchen accessories or paint an accent wall in your favorite hue.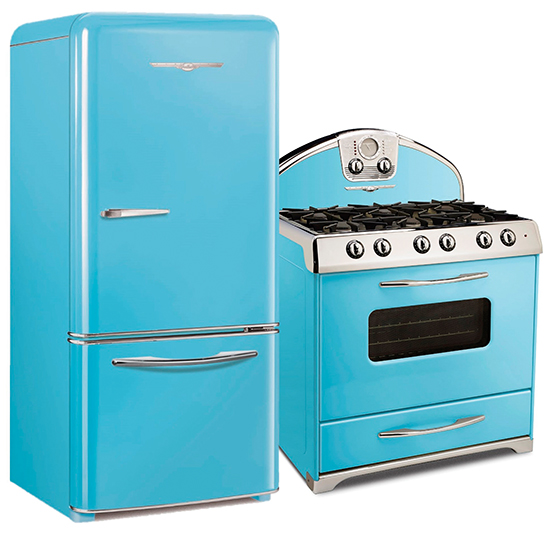 Blue
Soothing, calm and reminiscent of the sea and the sky, blue evokes feelings of health and well-being. Adding this naturally relaxing hue to the kitchen, which is often the busiest room in the home, can transform the space into your own personal retreat.
One way to bring blue into the kitchen is through 1950s-inspired appliances from Elmira Stove Works in Beach Blue, a hue that takes its cue from days spent lazing by the pool or at the seashore. From refrigerators and ranges to microwaves and dishwasher panels, retro appliances can bring a fun, welcoming vibe to kitchens.
"Color – whether bold or on the subtler side – can really make a kitchen come alive," said Tony Dowling, vice president, Elmira Stove Works. "Appliances are a great way to introduce color while also creating the foundation for the rest of the space."
Yellow
One of the happiest colors on the spectrum, yellow is a lively hue that represents youthfulness and joy. It can inspire reflection and creativity, lift spirits and encourage optimism. Use yellow in your kitchen to bathe it in year-round "sunshine," especially if your kitchen doesn't get a lot of natural light or could use an extra dose of warmth and cheer.
Black
Although it has a reputation for darkness and mystery, black is also associated with sophistication. Think of a black-tie affair, where the dramatic attire and decor create an upscale atmosphere. Black design elements can lend that same sense of elegance to your kitchen. Appliances are commonly available in black, but you can also incorporate black through tilework, granite or marble countertops, or an eye-catching porcelain or soapstone sink.
"Whatever colors you choose for your kitchen, the most important thing is to trust your intuition and to wrap your kitchen in hues that make you feel good," Fedak said.
Explore more colorful ideas for your kitchen at elmirastoveworks.com.