(BPT) – For millions of Americans, particularly those in lower income communities, access to healthy foods remains a challenge. However, when it comes to building healthy, happy kids, proper nutrition is essential to helping them succeed later on in life. School lunch is important for student health and well-being because it ensures students have the nutrition they need throughout the day to learn. Kids' minds and bodies are also constantly developing, so healthy habits developed in the school cafeteria directly impact future decisions.
Whether your child is eligible for the National School Lunch Program or not, parents can support their schools' lunch programs by encouraging their children to participate. By doing so, you're not only positively impacting your kid's future, but you're also investing in the next generation to ensure they receive the same essential nutrition during the school day. Plus, a school's partnership with a healthy school meal provider saves busy parents a lot of time previously dedicated to preparing those daily school lunches.
As the nation's leading provider of healthy school and community meals, Revolution Foods' mission is to build lifelong healthy eaters by making kid-inspired, chef-crafted food accessible to all. The company understands, and studies have shown, that proper nutrition and healthy food can drive positive academic outcomes and can be a tool of empowerment to help children achieve their potential.
In honor of National School Lunch Week Oct. 14-18, Revolution Foods' team of nutrition experts and chefs compiled a list of reasons why parents should motivate their children to eat school lunch:
1. It's good (and good for you)
Gone are the days of greasy pizza slices and preservative-laden packaged treats. "At Revolution Foods, we ensure taste and flavor are at the forefront of any meal we create," said Michael Roddey, regional product development chef at Revolution Foods. "The menu is looked at through a chef's lens. We also engage with students at every step of the development process to guarantee we are creating foods that they will love and because they helped create it, they're also more inclined to try it!"
After a Revolution Foods' meal has the chef stamp of approval on taste, Roddey and his team then work to ensure it exceeds the federal nutrition standards for the National School Lunch Program (NSLP) which are based on the Dietary Guidelines for Americans. "School lunches must include a variety of vegetables, fruits, lean proteins, whole grain-rich products, and low-fat or non-fat milk," said Kim Doyle, Revolution Foods' senior director of nutrition and compliance. "Additionally, they must stay within specific age-appropriate nutrient ranges for calories, saturated fat and sodium, and be free of artificial trans fats."
2. Increases exposure to new foods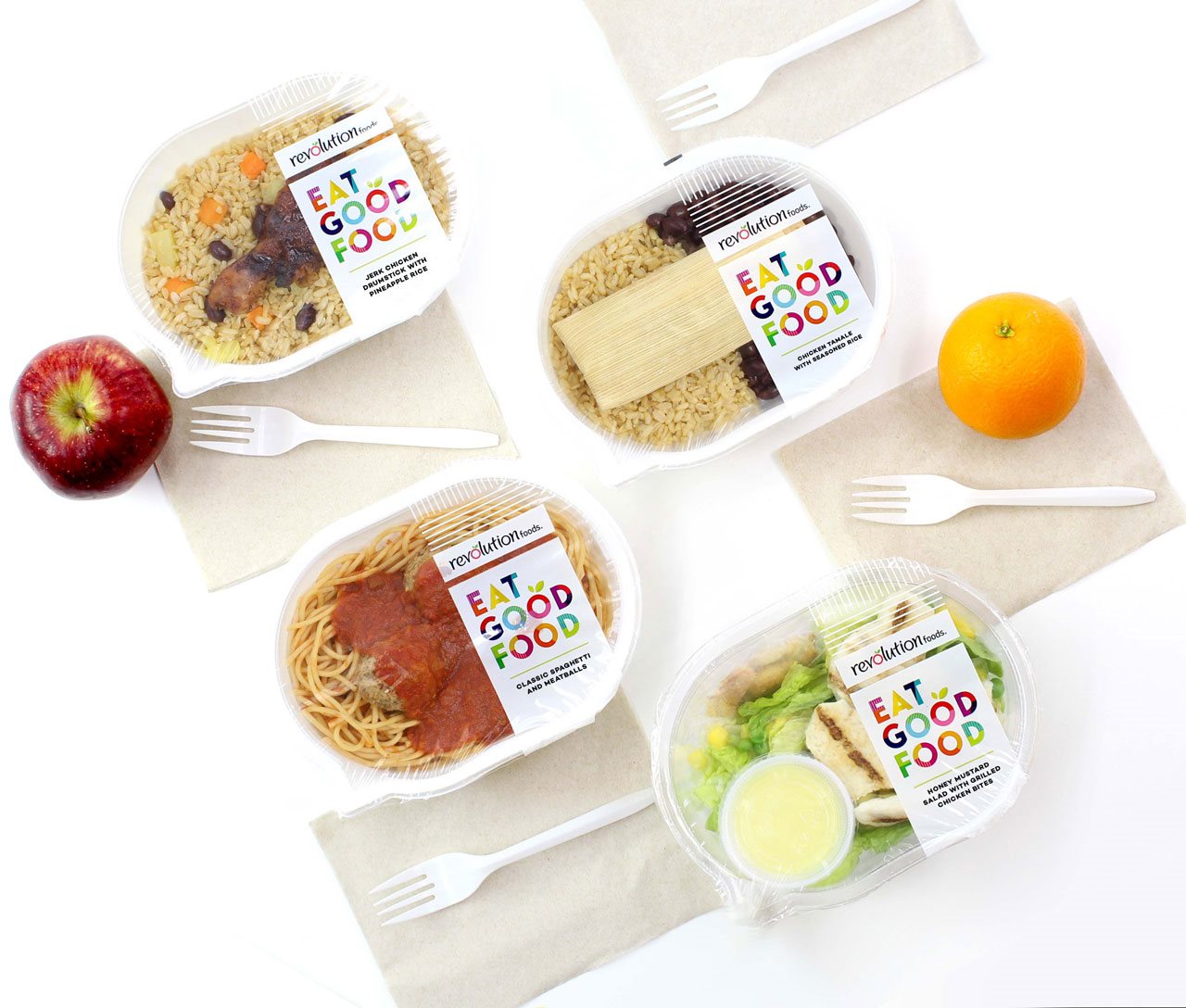 A great way to increase children's exposure to new foods is by reviewing the school lunch menu with them and talking about the offerings before the school day. This way, you can discuss any meals that are new to them beforehand, using the internet for some help if needed, and encourage your child to give them a try. Trying new things is key to broadening a kid's palate, which can only help them to continue healthy eating habits as adults. Revolution Foods even works with the districts and schools that it serves to incorporate ethnic and regional fare into their menus, such as Latin-inspired tamales and chilaquiles or Southern jambalaya. "We love incorporating foods and flavors into our menus that are outside the box, and oftentimes aren't being served at home," said Roddey.
3. Drives academic outcomes and improved behavior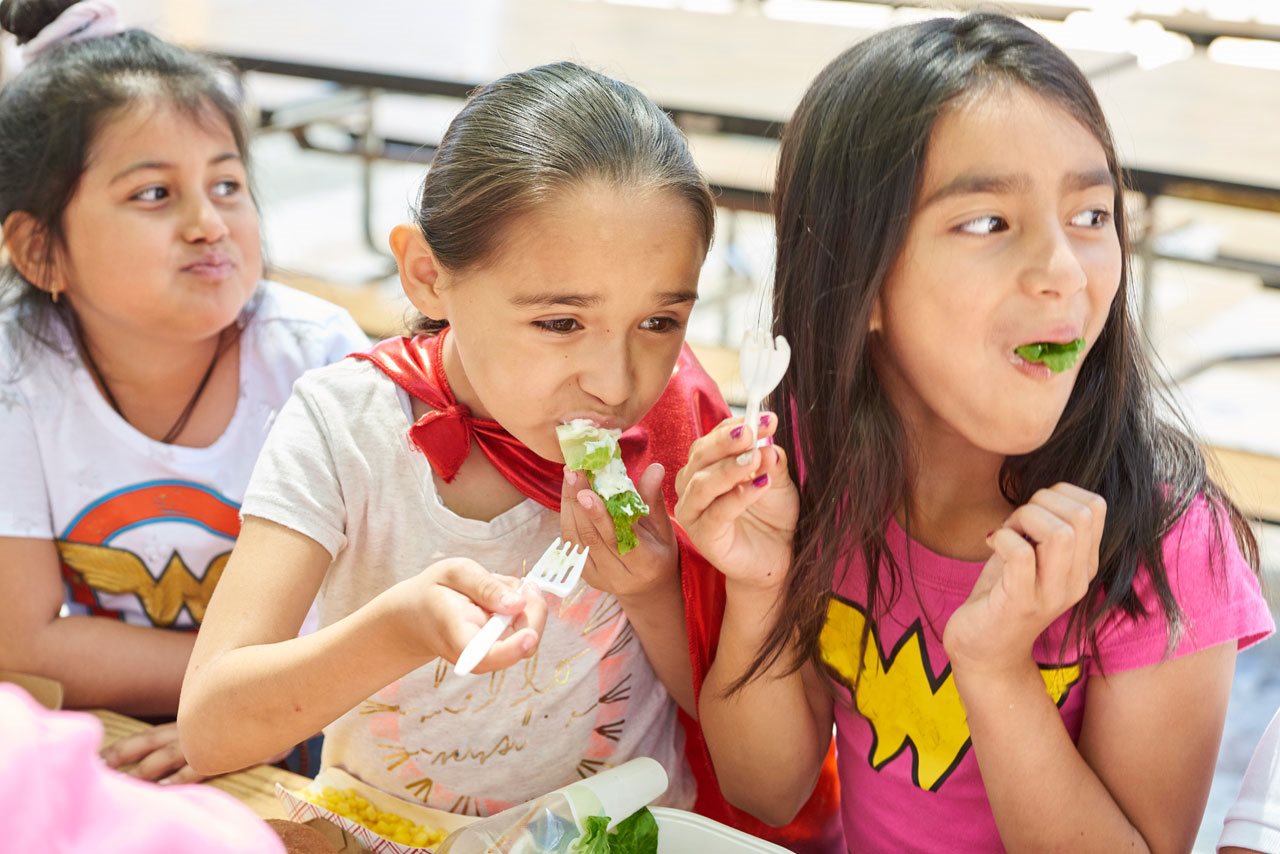 Studies have shown that nutritious foods drive improved health and academic outcomes. According to a recent paper published by UC Berkeley, students at schools that contract with a healthier school-lunch vendor perform better on tests. Doyle said this is because school meals are required to provide balanced nutrition throughout the day. Students who eat breakfast and lunch have been shown to have improved cognitive function, higher test scores and better attention spans. Additionally, recent research has found schools that serve Revolution Foods meals saw an improvement of 13.1% in English Language Arts (ELA) test results.
Nutritious meals also impact student behavior and are associated with better classroom behavior, fewer absences and improved mood compared to children who do not eat during the day. "You know what they say — you are what you eat. If you put good, wholesome food into your body, it will produce better results, which is important for anyone but especially kids whose bodies and minds are developing so constantly and rapidly," said Roddey.
4. Is convenient and affordable
Most schools have their menus and student lunch accounts accessible online so you can easily see what is on the menu and load money to your child's account before they arrive to campus. By planning on your child eating school lunch you can free up time in your morning routine and avoid worrying about them forgetting lunch as they run out the door. The average school lunch cost for an elementary-aged student is $2.48, while an average high school lunch is $2.74. Depending on where you shop, you'll be hard-pressed to pack a lunch that includes all components of a healthy meal for this price. If your child qualifies for free or reduced-price lunch, contact your school administrator to complete the necessary application for your child to start receiving meals at no or low cost.
5. Supports the school nutrition program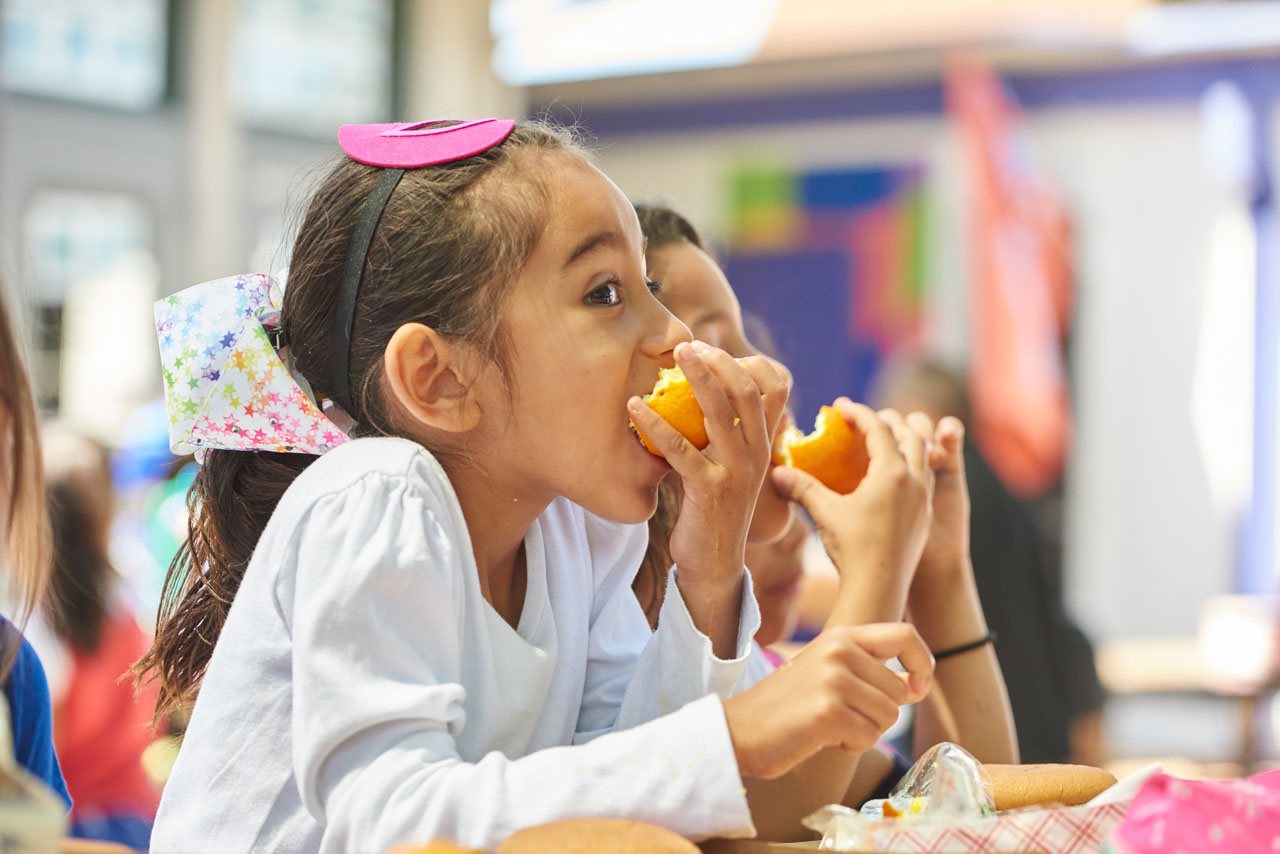 "Nearly 100,000 schools participate in the National School Lunch Program serving 29.8 million students each day!" said Doyle. "Most school lunch programs are operated independently from their school district's budget meaning that they must be self-sufficient. The more students that participate in their program the more revenue they earn. This allows the nutrition program to expand and impact a greater number of children."
For more information, visit RevolutionFoods.com. Follow @RevolutionFoods on social media throughout the school year for more tips and tricks on healthy eating for the whole family.