(Family Features) If your favorite room is outdated and dingy, a renovation may be all you need to make the old feel new and to fall in love with your home all over again.
Upgrading your home can be a big job, and unless it's part of a pre-move-in plan, few homeowners find it practical (or even possible, from a budget standpoint) to execute a large-scale project. However, tackling the updates one room at a time and focusing on small changes that bring big returns can put those overdue enhancements well within reach.
Kitchen
It's the heart of the home, and it's where many homeowners sink big money to make upgrades. Kitchen renovations don't have to require a second mortgage though. Re-facing rather than replacing cabinetry can bring about a whole new look for a whole lot less money. This is a good option when the existing cabinets are still in good working condition and you're just looking for an aesthetic change. Other small-scale options include swapping out the countertop and sink, changing the lighting fixtures and updating tired floors with contemporary wood or tile. 
- FWBP Digital Partners -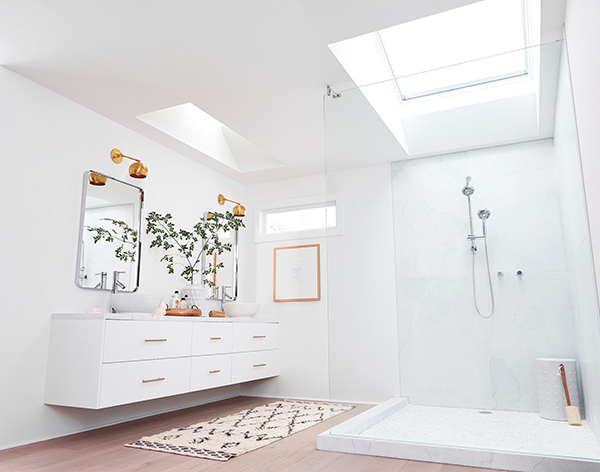 Bathroom
When plumbing is involved, project costs can skyrocket, but there are some relatively simple ways you can give your bathroom a facelift on a modest budget. For starters, swap out all the fixtures from lighting to faucets. A new vanity is another instant upgrade, whether you opt for an updated version of the original or select a whole new style for a completely fresh look.
Also consider upgrades that can increase natural light and fresh air without compromising privacy, such as the addition of skylights to your ceiling, or "fifth wall," which can completely change the lighting dynamic of the room. In addition to balanced, natural light, skylights like those from Velux can open to help refresh your space and keep it odor- and moisture-free.
Living Room
A common space where the family gathers is likely to sustain the greatest wear and tear, and because you spend so much time there, it's also a room where you're likely to find a list of things that irk you. Creating a new color scheme is a simple fix that transforms the space, but changing the palette of the walls is just the beginning. Also consider taking your redesign to the ceiling with vibrant colors, creative wallpapers or even exposed beams. Round out the room by swapping out lamp shades, adding vibrant throw pillows, replacing old curtains or blinds, or tying the color scheme together with a new area rug.
Bedroom
In your private sanctuary, all the typical options for updates apply for sure. However, this is a space where the furnishings can be an especially impactful way to influence the ambiance, especially if a construction project in the room where you sleep is impractical. Changing out the style of the bed frame and complementary pieces creates a whole new vibe for the room. Then bring in a new collection of textiles for the bedding and drapery to help round out the pseudo-renovation.
For extra style and light control, consider complementing the room's decor with skylights featuring colored blinds, which are available in more than 100 colors and styles, and also offer remote control operation for convenience in raising and lowering the blinds and opening skylights to let in fresh air. Learn more about making the fifth wall part of your renovation plan at whyskylights.com.