Loans bring a lifeline
Red Productions and Hiley Automotive Group are vastly different local businesses, but both were given a vital boost from a federal government's loan program for small businesses struggling through the COVID-19 outbreak.
"Business is not devastating but it is pretty terrible," said Jason Hiley, president of the Hiley Automotive Group, which operates 13 auto dealerships in the Dallas-Fort Worth area and Alabama. "Some days are okay, but most are slow," he said.
Tarrant County's shelter-in-place ordinance has all but shuttered the dealerships' showrooms and shifted sales to mostly online operations for a company that reported more than $450 million in revenue in 2018 according to the Fort Worth Business Press.
- FWBP Digital Partners -
But the company remains open because auto service and management functions continue to operate.
Despite the availability of online shopping, vehicle sales are sluggish because many would-be buyers have been laid off or are skittish about purchasing a big-ticket item in a sluggish economy. Yet, the company keeps its nearly 500 employees on the payroll.
"We made the decision that we weren't going to lay off or furlough them," said Hiley, who with his brother, Matthew, work along their father, Randy, who founded the company with the opening of Mazda and Volkswagen dealerships in Arlington 30 years ago.
"We decided we were going to pay them regardless," he said.
Being able to do that became a lot easier since the company received a loan for small businesses through the U.S. Small Business Administration's Paycheck Protection Program (PPP).
The low-interest loans could be forgiven if all employees are kept on the payroll for eight weeks and the borrower uses 75 percent of the loan for payroll costs. The other 25 percent could be used for rent, mortgage interest or utilities.
As of April 13, more than a million loans worth $247.5 billion have been issued through 4,664 lenders nationwide, according to SBA data.
Furthermore, Texas led the nation with 88,434 loans valued at $21.7 billion. California followed with 54,992 loans for $20.8 billion, according to the April 13 data from the SBA.
Among the rules, companies with up to 500 employees are eligible to apply for the PPP loans.
"This has been a saving grace for us," Hiley said. "We will be able to remain open. A lot of dealerships across the country decided to close."
Red Sanders, owner of Red Productions, a full-service video production company based in Fort Worth, is also grateful for the PPP loan his company received to continue paying his 16 employees.
"We are able to pay our full staff their salaries and benefits through the end of May," Sanders said. "It is huge for us."
With onsite filming shutdown, Sanders and his team have shifted services to offering live-stream video services from their Fort Worth studio, which they deep clean between uses.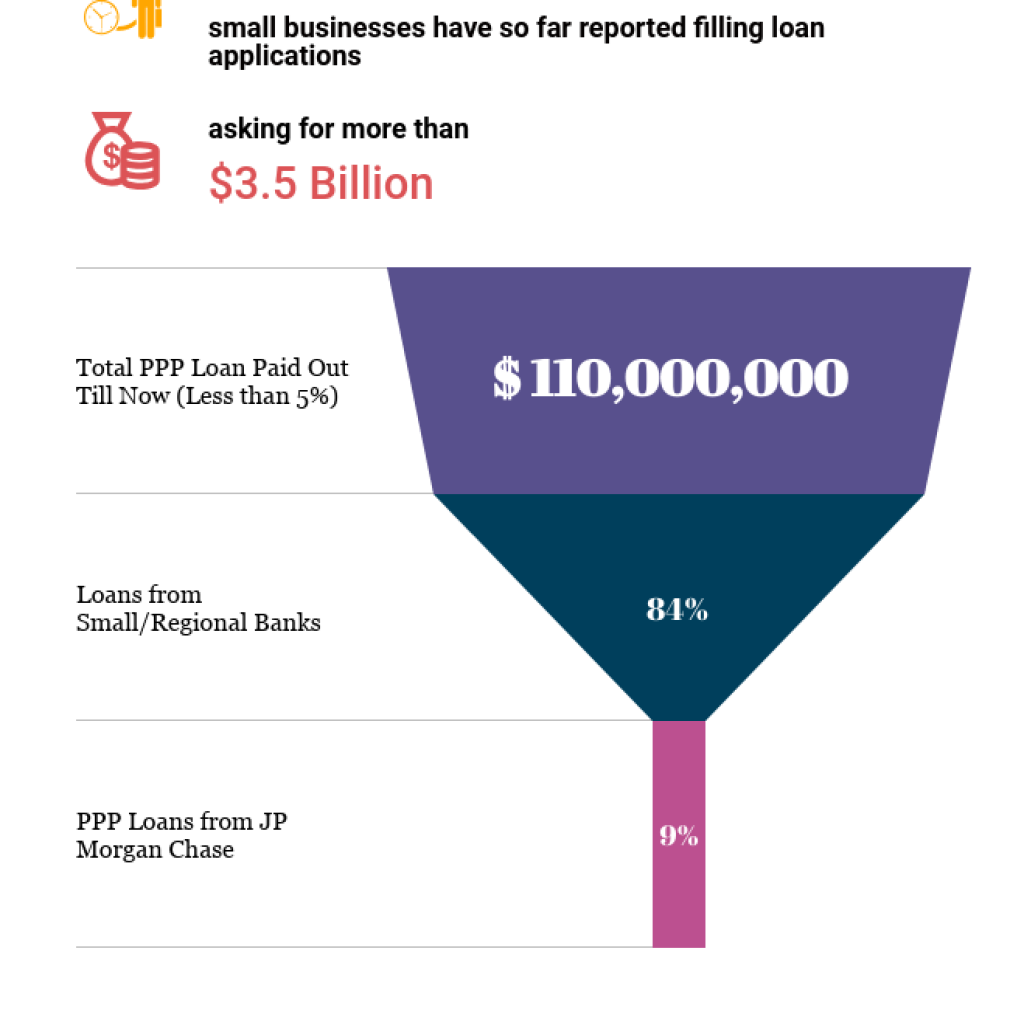 "We provide a safe, sanitized place for clients to come in and produce a video with a professional quality backdrop, lighting and audio," Sanders said.
Corporate annual meetings and professional development trainings need more of a professional setting than video conferencing "from someone's kitchen table."
Both Sanders and Hiley said they are awed that the federal government could pull together the $349 billion PPP and their banks were able to secure their loans (of undisclosed amounts) in record time of about a week.
Other applicants are still waiting to find out whether they will be as fortunate.
An overwhelming number of applicants and shifting requirements were among the issues that complicated the process when the application period opened through banks on April 3.
"That whole first week was a frenzy," said Frank Ianelli, managing director of WhitleyPenn, who helped shepherd multiple clients through the process with several local banks.
While the application process was set up on a first-come, first-serve basis, some banks were able to able to process loans quicker than others because they were already certified as SBA lenders.
Meanwhile, others had to quickly become certified and set up to process SBA loans, Iannelli said.
Adding to the initial chaos was the requirement that loan seekers had to have a relationship with a bank to apply for a loan.
"You couldn't just have a checking or savings account at a bank," Iannelli said. "You had to have a relationship that involved investments or loans. Many small businesses don't have that type of relationship."
The SBA has helped small businesses by allowing financial technology companies such as PayPal and Intuit to help distribute loans under for the PPP program.
More loan approvals and deliveries are expected this week, said Martin Noto, vice president and chief lending officer at Inwood National Bank as well as chairman of the board of directors of the Fort Worth Chamber of Commerce.
"With a program of this magnitude that rolls out in a short period of time there is going to be some confusion," Noto said. "But I believe the SBA did a yeoman's job of getting it up and going."
Dallas-based Inwood National Bank, with a branch in Fort Worth, processed the Hiley loan along with many others.
"A lot of banks were in the process of inputting (loan documents) at the same time so the (SBA) system would go up and down," Noto said. "We ended up having to do a lot of it at night when the system was more freed up."
In the second week since the application period opened, applications are started to slow but money is quickly being used up, Noto said.
"I think Congress is going to have to look at adding another $150 to $200 billion to help more businesses," he said.
The Fort Worth Chamber has been conducting a series of webinars to help businesses navigate the loan application process. The chamber staff is also beginning to gather feedback from members on the program, he said.
Other banks have also worked diligently to put their customers at the front of the line for the PPP loans.
"This is an unprecedented time," said a spokesman for BBVA USA Bank. "We have never seen anything like this in our lifetime, and we're doing our best to make sure businesses and employees get the resources they need either through us or federal programs."
JPMorgan Chase, the nation's largest bank and the biggest bank by deposits in Tarrant County, has 300,000 customers across the country in some stage of the application process, representing $36 billion in loans of which $9 billion have been funded to businesses, according to a spokesman
The PPP is only one of several loan programs available to small businesses impacted by the pandemic.
Another loan program is the Economic Injury Disaster Loan program (EIDL), which has typically helped small businesses hurt by natural disasters such as hurricanes and tornados.
The program received extra funding from the $2 trillion federal stimulus package but has had little impact so far. Emergency grants of up $10,000 were to be available through this program.
A survey by the National Federation of Independent Business found that about 50 percent of the 884 business owners who participated in the survey had applied for funding through the EIDL but only about 4 percent had been approved as of April 7. Business owners reported better success with PPP loans.
In addition to federal loans, small businesses in Texas can apply for $50 million in loans through a partnership of Goldman Sachs, the LiftFund and other community development financial institutions.
The funding is part of the Goldman Sachs 10,000 Small Businesses program to provide relief to businesses affected by COVID-19.
The City of Fort Worth announced April 15 that it had teamed with PeopleFund to launch the Business Resiliency Microloan Program, which is prepared to provide at least $850,000 to eligible businesses in Fort Worth.
The loans may be used to pay fixed debts, payroll or accounts payable, or cover other bills that can't be paid due to the pandemic. While maximum loan amounts may reach $50,000, at least half of these loans will be $15,000 or less, and at least 60% of loan proceeds will be allocated to minority-owned businesses and those with low to moderate income, the city said.
PeopleFund set up a Texas COVID-19 Relief Fund and seeded it with $3 million in capital.
The Fort Worth Loan Development Corporation (FWLDC) has made $350,000 in loan capital available to this Texas COVID-19 Relief Fund, and PeopleFund will match this capital with $500,000 to support eligible businesses in the City of Fort Worth, the city said.
"Fort Worth's small businesses are one of the things that makes our city so special, and we know they've been hit hard during this unprecedented time. As our community continues to rally around our small businesses, this program will provide them with some much-needed support and relief," Mayor Betsy Price said in the announcement.
Total PPP loans paid out: $ 134,503,824
Avg. Payment Speed: 8.2 days
Median Company Size: 12 employees
Median PPP Loan Size: $98,500
Top 3 Lenders paying PPP Loans:
Small/Regional Banks : 76%
JP Morgan Chase: 10%
Wells Fargo and Bank of America: 1% and 1%
Top 5 States by successful PPP loan applications:
CO, FL, MO, and OK – all four are 15%
Texas – 54 %
Georgia – 21 %
California – 30 %
Wisconsin – 18%
Illinois – 16%