(Family Features) If you're among the millions of Californians who will hit the road for the holidays, you'll want to make sure your car is road-trip ready.
These tips from the expert mechanics at RepairSmith, which delivers car repair and maintenance when and where you need it, can take some of the hassle out of getting on the road.
1. Fill and Clean Fluids
Expensive repairs and getting stranded in the middle of nowhere don't inspire holiday spirit. Before you hit the road, check for dirty or low fluids, which can damage your engine and transmission. While checking engine oil, brake fluid, washer fluid and coolant is doable on your own,  a professional may need to check others, including automatic transmission fluid and transfer case fluid.
- FWBP Digital Partners -
2. Do More Than Just Measure Tire Pressure
Worn tires can compromise traction, handling and braking performance, which can be hazardous on the road. Beyond just checking tire pressure and inflating tires when needed, also check for tread wear in at least three spots across each tire using a tread depth gauge. Look for defects such as uneven tread wear or cupping and inspect the sidewalls for cracks, bubbles or other flaws. If you spot any issues, such as your tread depth at 4/32 of an inch or less, you'll want to consider replacing your tires.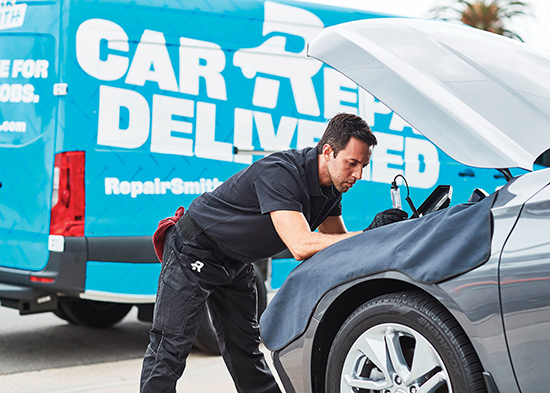 3. Take a Look Under the Hood
While you may keep your car shiny and smelling fresh, it's important to get a good look under the hood – and under the car – to lower your risks for a breakdown. Consider having a professional double-check these items, which affect everything from driving performance to fuel economy:
Belts
Hoses
Air filter
Battery
Steering
Suspension
Drivetrain
4. Avoid Putting Off Required Maintenance
Holiday travel is the perfect time to stop procrastinating on required maintenance. If you've been ignoring a weird noise or your check engine light, it's best to take care of it before long-distance road trips.
Technology in newer cars will tell you exactly what's needed, but there's also a recommended maintenance schedule you should be following for older cars. Check your owner's manual to learn more about when and what to service to keep your car working like new. Making it easier to check this item off your list, a service like RepairSmith delivers full-service car repair and maintenance direct to your driveway or in certified repair shops.
5. Check for Wear and Tear on Brakes
Brake pads and rotors should be checked regularly to ensure safe stopping distance. A professional can measure them, check for minimum thickness and replace them, if necessary –typically when rotors are worn below the manufacturer's recommendation or if pads are worn between 3-6 millimeters of friction material.
6. Get an Extra Set of Eyes on Lights and Wipers
Even sunny places like California get more rain and have shorter daylight hours during the winter months. Check wiper blades for fraying and look out for streaking when they're in use; these are signs they need to be replaced. Also find a friend to help check that your exterior lights, including headlights, brake lights and turn signals, are working properly.
7. Check the Conditions at Your Destination
If you're heading to mountains, check to see if snow is expected. Many mountain destinations require the use of snow chains under certain conditions and if you're unprepared, it may be difficult to reach your final destination.
Find more road-trip tips at holiday.repairsmith.com.
Photo courtesy of Getty Images (highway traffic)