Prepare to have quality, relevant news delivered straight to your inbox
To ensure that you get our email newsletters, please …
Watch your inbox for a confirmation email from us. It might take a few minutes for it to come through and you may need to check your promotions or spam folder.
Add news@bizpress.net to your email address book or approved senders list. This will prevent our emails from going into spam. If you're on Gmail, you can drag our email to the "Primary" tab to ensure you don't miss them.
If you already have an account with us you can manage the newsletters you subscribe to in your Account > Newsletter page. If not, register a Free Account to get access to more features!
Be sure to check out many of our other newsletter products.
Banking & Finance
Culture
Energy
FWBP Updates & Events
Health Care
Morning Headlines
Real Estate
Transportation
Business
Education
FWBP Daily
Government & Politics
Manufacturing
Nonprofits
Technology
Weekend Newsletter
Get even more — become an Insider!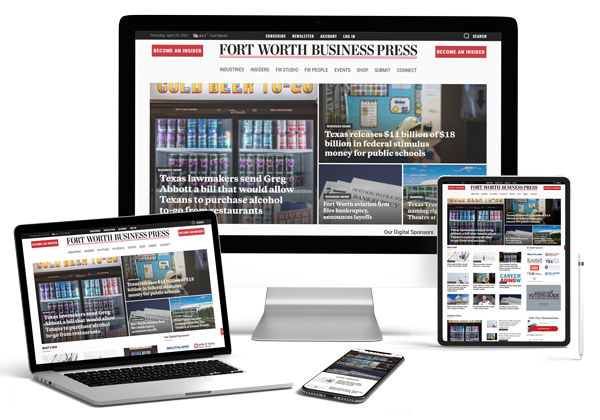 We're thrilled that you're getting our email newsletter, but to get all the benefits Fort Worth Business Press has for business professionals, you need to be a FWBP Insider. Here's what you'll get:
Critical business news and analysis updated daily specifically for the Tarrant County area.
24 issues per year of Fort Worth Business Press magazine delivered either in print, digitally or both.
Access to all Insiders content on our website and the digital version of our magazines.
Priority access to FWBP webinars webinars with innovative Tarrant County business leaders.
Book of List 2020 E-Edition
Discounts on FWBP Products, events and registration.